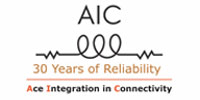 Akshay Insulated Conductors
Bonded with copper since 1979
AIC is the major supply to many reputed OEMS, hence well aware of the Audit requirements. Not only AIC have stringent quality and control measures but the QA Lab is also equipped with the latest technology which conforms major standards.
Our measures start from sourcing itself, where we ensure we source only 99.9% pure copper with test certificates for various parameters only. Further consistency in quality is maintained throughout the SPOOL by ensuring following procedures are followed
Customer's drawing is defined at design stage
Systems in place to assign suitable processes and raw material as per customer's specification
Process charts are made which defines operating parameters to manufacture required Products
Periodical noting is made of process chart to ensure consistency of quality
Numbers are assigned on each spool to ensure traceability of Date, Operator, Machine and Raw material for all wires manufactured
Each and every spool manufactured is tested in laboratory with records to ensure consistency
We ensure critical processes like spool traceability with regards to raw material, batchcodes, operator, machine no. and IT enabled systems
Frequent internal and external Audits are conducted to ensure system is implemented perfectly
Our mission over the years always has been to make a product which delivers good quality product with consistency and to make this mission a reality AIC team strives hard on all fronts.